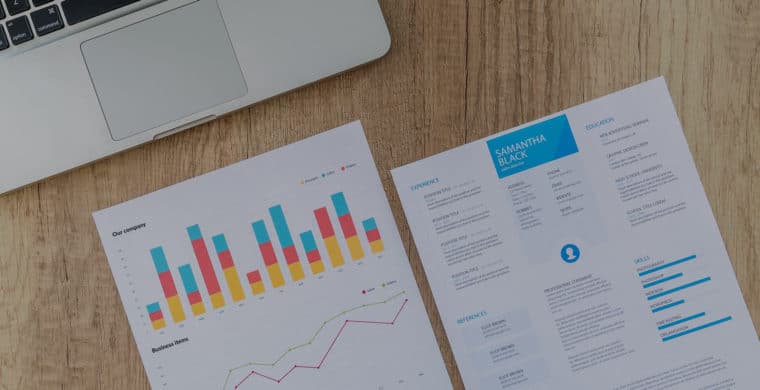 CDO as a Service
Digital has changed our world. It has changed consumers and it is changing business. You need that represented at the executive level. Some call it a Chief Digital Officer (CDO), others a Chief Customer Officer. Whatever the name, you need an understanding of digital and connected business on your board. Finding those people is hard. It is even harder to pay for another full-time executive. Instead, consider outsourcing the position.
What we offer is not a simple transformation of an analog business or process into a digital process. We rather help you analyzing your strategy and business and help you find ways to make it better, more efficient supported by digital technologies.
The key to success for CDOs is to understand and plan how to manage the avalanche of vast and rapidly growing sprawl of data—new and old, active and archived (i.e. dark data), and all manners of structured and unstructured data. In order to deliver, CDOs must influence transformational change and deliver business outcomes within their own organizations. Whether a new business model, strategy, technology transformation, or other event is driving these changes, the CDO and executive leadership team must be strategically aligned to rise to the challenges ahead.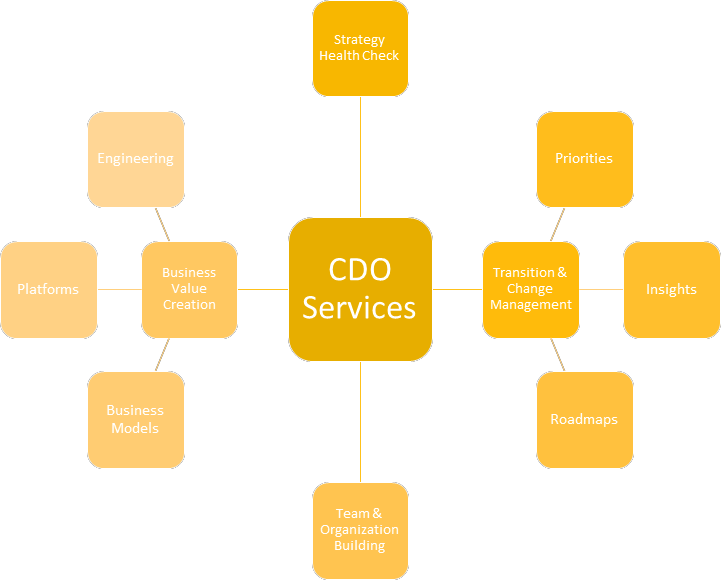 Whether you have a newly appointed CDO and try to maximize the value of the role or enhance the functions underneath it, our services will help you on your journey and support you to drive executive stakeholder alignment and realize business value from enterprise digital assets.
We have created a comprehensive portfolio of services and toolsets as a pragmatic response to your challenges and requests that we see as common amongst our clients.
We will work closely with you to help your organization respond these typical scenarios:
You will get our support and expertise to create a holistic vision and deliver a clear vision and roadmap for the future CDO role in your organization:
Our tasks:
Identify role and position in your organization
support in staffing the role and team with experts
prepare teams and the organization by training and education
You enhance your current CDO journey
With growing business demands often the need for restructuring, realignment, and staff training arises.
Our offerings can:
Speed up and enhance your teams' execution and alignment
Review and realign priorities and help to focus
identify and outline short- and long term goals
Our service offering is aimed at transforming your organization into a truly digital entity, by addressing digital and analytical capabilities. You may choose from a set of predefined services that can easily be adjusted to your specific needs and your current situation:
Strategy Health Check
Transition & Change Management
Team & Organization Building
Business Value Creation
As a response to our clients' needs and requirements, we have created a comprehensive set of services in an integrated business approach, supporting large transformational initiatives while trying to urgently fill a key leadership gap.
Our CDO-as-a-service offering is a ready to start service that delivers a complete team that will immediately begin to assess, prioritize, and address the transformational digital issues for your organization.
Our CDOaaS Team can build, align, and train your "digital organization" for you. The staffing begins by augmenting your existing staff with a seasoned, temporary CDO, along with his or her key direct reports to build out the CDO core.
The CDO and team will start by assessing your current digital capabilities and landscape in close collaboration with your executive team in order to understand your challenges and identify your immediate needs and execute a phased roadmap to help achieve your organization's business objectives.
This service is targeted at providing new or existing CDOs with the support needed to get business and stakeholders alignment and buy-in, because identifying and aligning business priorities, drivers, and strategic goals and creating a vision for data engineering and platform enhancement are some of the main priorities in these roles.
We can support you in:
Developing a strategy focused on processes, applications,
data, and organization model
Performing or reviewing a data maturity model to
establish a baseline
Clarifying your organization's case for change (e.g. risks,
insights, etc.)
Identifying major pain points and quick wins
We will periodically check-in and review,  together with your CDO team, your goals, KPIs and help you understand your benchmarks with industry peers.
This will help you understand emerging technologies and trends and maintain a sustainable yet effective innovation pace.
Transition & Change Management
If you're transitioning into a new role or need to realign priorities with the executive leadership of your organization, this is meant to help you. We support you in setting and aligning priorities, and overcoming organizational barriers.
Our Change Management and Transition support program focuses on the individual CDO to help creating a plan focused on the top priorities, organization, engagement, and alignment between their ecosystem. Together with you, we address challenges in key focus areas (identified by the CDO) and help build a more cohesive leadership team that's focused on executing strategic change for the organization.
We can help you
Align your goals and strategic initiatives
Grow your team's successes and results
refocus on short- and long term priorities
In preparation for the Transition & Change Management Program, we will work closely with you on understanding your objectives and goals. We will coordinate exchange with your peers, business stakeholders, and team members, if required, and provide confidential feedback. This helps to identify the status quo and to outline a roadmap.
Team & Organization Building
In order to be successful, a CDO needs a team, with a variety of skills and connections within the organization.
It is one of our strengths to identify these requirements and find the right people in the organization or by tapping into our professional networks.
We can support you by
training your staff members
temporarily fill gaps by reaching out to trustworthy members of our network.
identifying and assessing internal and external candidates
Creating business value with digital initiatives can be accomplished in many ways.  We help you identify opportunities by
supporting operations by digitizing processes
identifying digital monetization opportunities based on data and digital services
Creating business has almost always a direct impact on company goals and needs close alignment with stakeholders. We help you align with your companies executives.
With our product management experience, er are experts in
end-to-end value chains
new digital products and offerings
analyzing the market and competitive landscapes
corporate-startup collaboration
innovation initiatives
Contact us here, to get more insights and a call from us